CURIOSITY AND JOY ARE NATURAL. BOREDOM AND SUFFERING ARE ARTIFICIAL.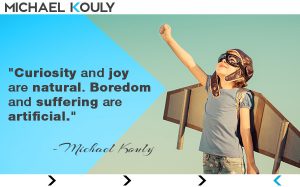 "Curiosity and joy are natural. Boredom and suffering are artificial."
Your true nature is expressed by your state of being when you were a child…fresh, curious, joyful and always thrilled about life.
Boredom, disinterest, stress, anxiety, hopelessness, meaninglessness, and depression are artificial conditions created by the unnatural modern lifestyle.
What can you do to live with the same excitement and thrill that you experienced in childhood? Do it now.
-Michael Kouly